Sculpture and Space
Studio heads: doc. MgA. Benedikt Tolar, doc. MgA. Luděk Míšek
The curriculum of the Sculpture and Space studio is based on the traditional sculptor training, which includes dealing with form as well as developing the ability to perceive spatial implications, volume-related proportions and structures. We put emphasis on mastering the entire range of classical and modern sculpting techniques and technologies.
The essence of the training lies in experimenting. The students are free to choose the materials, topics and genres to work on, producing figures, installations, stationary or mobile works, land art etc.
The head of the studio, Benedikt Tolar, focuses on found objects, be it ready-mades or fragments, drawing on the tradition of Czech grotesque sculpting. Luděk Míšek, on the other hand, represents the legacy of constructivism and minimalism, supplemented by metaphysical thinking of the relation between the material and the soul. During their studies, the students will become familiar also with more sophisticated technological procedures, such as metal casting.
Applicants – who we look for
Anyone interested in working with materials. Experimenters as well as fans of classical technologies. Students who enjoy seeing at the world not only as an easily understandable cliché. Thinkers, who need to learn how to work with materials. Craftsmen, who need to free themselves from the limiting rules.

Examples of the studio's projects:
Specific LandArt
In the project Vanished and Endangered Churches, the students created artistic installations that resurrected, emphasized and reflected the genius loci of several extraordinary places in the region. The best-known creations include the Believers by Jakub Hadrava in the Church of St. George in Luková near Manětín and Drop, or the Surface of Depth by Kristýna Kužvartová in the Chapel of St. John of Nepomuk close to Loreta near Klatovy.
Freak Show
One of the studio's products is a concrete sculpture inspired by Goya's painting Saturn Devouring His Son. Located in a residential area among blocks of flats in the Pilsen district Lochotín, it is one of the first sculptures installed in a public space after 1988. Two polls have been conducted as to whether this "rabbit sculpture" should remain in place and the locals have decided both times to keep it.
"It wouldn't be a good idea to give up the search for a balance of the body and soul. The wisdom of our ancestors is based on hundreds of years of experience. I would like the students of the Sculpture and Space studio to be able to search for themselves and their place within the hidden meaning of the world and the life in it."
Prof. Jiří Beránek, founder of the studio
×
New Media
Studio head: doc. akad. mal. Vladimír Merta
Assistant: MgA. Eva Šindelářová
The New Media Studio and its follow-up Master's programme offer to the students a combination and fusion of contemporary forms of visual expression through modern technology, while also developing each student's own individual input.
Through access to classes throughout the Faculty, students become conversant with a wide range of medias and technology. Emphasis is placed on understanding, developing and improving the students' artistic talents and perspectives. Instruction in the New Media Studio is an experimental process aimed at opening students' sensitivities to the opportunities offered by artistic language in today's world. Emphasis is placed on taking updated approaches to traditional media such as painting and sculpture as well as on investigating the latest technical aspects of the present.
The New Media Studio is founded on a strategy of interdisciplinary cooperation within the university and with other institutions and organisations.
The keywords that frame the specialisation of the studio are: art as communication; new technology; interdisciplinary collaboration; new take on old media; individual responsibility of the artist; reflections on the outside world; experimentation; applied thought through form; continuity of the creation process; work; artist; creative presentation.
The studio graduates should able to reflect culture as part of the natural environment and provide creative enrichment for this environment.
×
Graphic Art
Studio head: prof. akad. mal. Mikoláš Axmann
Assistants: MgA. Mgr. Bedřich Kocman, MgA. Mgr. Jan Kocman
The topic of the 2020/21 summer term was PAPER THEATRE. You can watch a short presentation of the individual performances here. Light represents a dominant feature and a bridge to graphic art.
The studio is a place of creative encounters of visuality and text, where visuality encompasses the whole range of graphic expressions and text brings in provoking and inspiring partnerships. Stories unlock the potential hidden in both materiál and process, activate the storytellers and forces them to articulate their ideas, encourage us to think of the world from various perspectives and, above all, cultivate our ability to differentiate. Script is for us not only a way of conveying meaning, but also the most concentrated form of graphical expression in general. The main point of the studio's work is to shape energy that has been set in motion, a process co-determined by the nature of stone, metal, plastic, mesh, paper as well as by the digital language of zeros and ones. We understand tradition as a living and open part of our contemporary communication toolkit. The studio has very well-equipped workshops for intaglio, letterpress printing, lithography and serigraphy. Its premises include also a yard where wall-mounted projects can be created, and an open space where the students can work on large-format drawings and prints.
Bachelor's degree students are obliged to take semester courses in relief printing, letterpress printing, lithography and serigraphy. Most students take part in the Erasmus programme to go abroad for a semester. The Master's degree study programme is more individualized according to the students' abilities and specializations. We participate in extracurricular projects, shows and exhibitions on a regular basis. The usual products of our work include drawings, prints, artist's books, illustration sets and projects installed in the public space. Interdisciplinary cooperation protects us from narrow-mindedness and from creating art for art's sake. In all our activities, we try to keep our minds open for stimuli from the outside, remain able to distinguish and structure the problems at hand and search for solutions. But we still feel pure joy when grinding stones with sand from the river.
×
Metalworking and Jewellery
Studio head: MgA. Martin Verner
Assistant: Mgr. Miroslava Veselá
Jewels are a unique artistic medium for us, a statement from the artist a method of communication and enthrallment.
We learn to seek beauty in and around ourselves. The topics we focus on and have completed in the past include: Source/Rebirth, The Beginning, I Had a Dream, Breath, Harmony, Mystery, Amulet, Less Is More, A Stone Jewel, Symbol, Chain/Chaining, Geometry/Reflections on Ladislav Sutnar, Light/Shadow, Beauty in and around Us, Relationship, To Be a Part of Something.
We try to ensure that students, even when creating a small jewel, are aware that even this small object has its purpose, meaning, record, message – content that includes expediency, but can also reach beyond it.
It is not only about an effort to make an item impressive in its shape or produced with perfect craftsmanship, but about more – about the shared creation of a story – a story of a human life.
×
Painting
Studio head: MgA. Vladimír Véla
Asistant: MgA. Andrea Uhliarová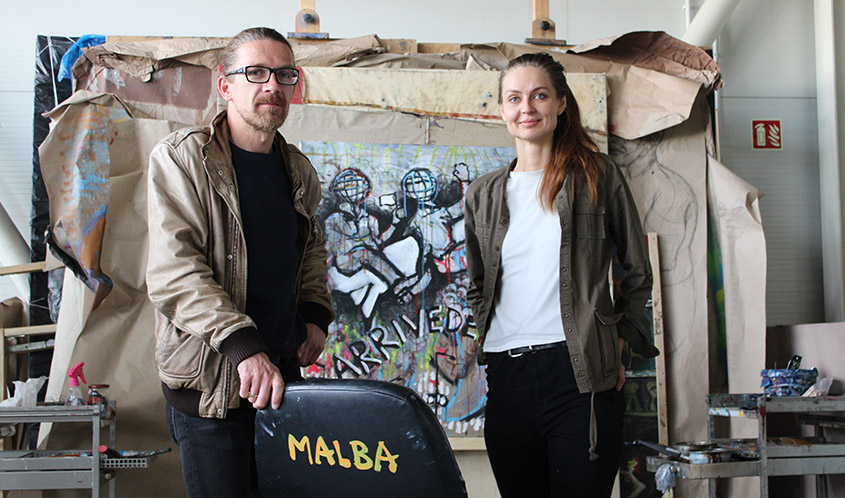 We search for the key to painting:
We do our best to uphold the established priorities of painting in the context of contemporary art, examining new possibilities of material transformation at the same time. For us, the term painting covers all creative methods that use the potential of emotional, energetic and ideological expression primarily through colours and that carry non-verbal information on the visual level. We do not work only on paintings that should hang on the wall, but also use the paintings' associative potential (smell, sound, touch), while respecting the philosophy of painting. We strive to preserve the historical qualities of the craft of painting, and search for its new forms in relation to the
contemporary visual and social environment. Being able to apply artisanal skills as well as new technologies in painting, following current developments in visual art, searching for your own opinions and expressive style – these are the qualities that we build upon and develop in our students.
Site-specific projects are the most suitable form for painting as we understand it. Our students worked in this fashion for example during their creative residency in the Bubec art studio in Prague in 2017 or at several other special external events organized by the studio. Aimed at intervening in urban spaces and non-residential premises, such events are a regular part of the curriculum and require an assessment of the type, scale and purpose of each given project, including a choice of appropriate technology and an economic estimate.
The students receive feedback on their work from renowned contemporary artists whom we invite to the studio on a regular basis: we have hosted the Czech artists Vladimír Kokolia, Michael Rittstein and Martin Mainer, as well as Robert Smužniak from Poland to name just a few. The Erasmus programme is a popular option for students who wish to broaden their horizons at another art school abroad.
×